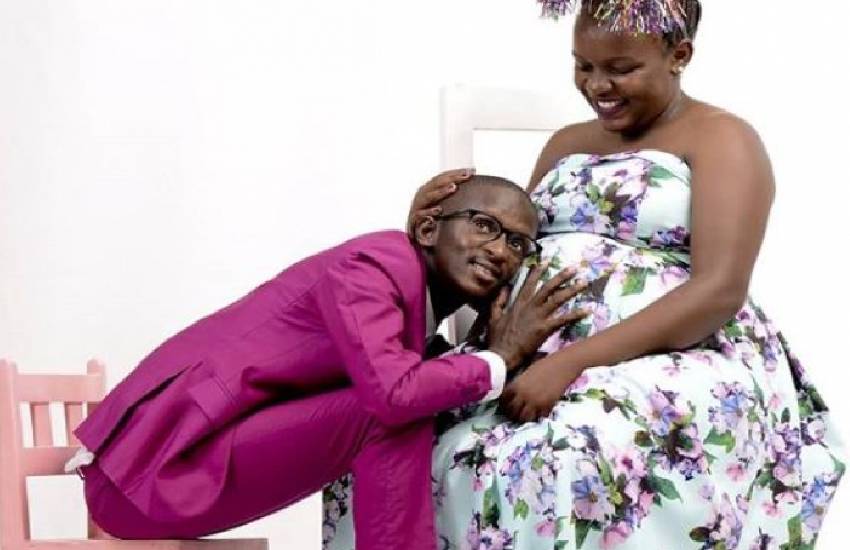 It is May 10, Mother's Day, a day of reflection and celebration of all mother figures that has seen several celebrities in the country including comedian Timothy Njuguna popularly known as Njugush take to social media to honour his wife Celestine Ndinda alias Wakavinye.
In his adorable Instagram post to Wakavinye, Njugush stated that he was grateful that she has sweetly raised their son Tugi.
Njugush noted that there is no manual to motherhood and appreciated Wakavinye for being the best mother to their son.
"Celestine Ndinda thanks for being the best mum Tugi would ever ask for!!!! We will always be there for you… Aki isipokua ni hii covid leo ingekubambia Samburu… You know how Bountiful Safaris travels come through… But there is a time for everything…
"And you've done your part with Tugi, it doesn't come with a manual but see how this small, jobless and formless human being (this one mimi hushuku alihepa bibi na watoto akuje aishi na sisi kama mtoto, he is not a child this one) living with us adores you…Sasa wacha alale nikushukuru mamake juu ata wewe unaona hatuwezi toka Nairobi," wrote Njugush.
So did producer Tedd Josiah who reminisced and exalted his late wife Reginah Katar as a wife, doting mother and queen whose time was cut short.
"As we celebrate Mother's Day today I do it with love and respect for all the moms out there going hard! For their children and families to have the best in everything from love to food to a good life! We send you our love from the bears.
"We also celebrate a queen whose time was cut short on earth due to complications arising from motherhood. Mama JayJay- Reginah Katar- you will always be remembered fondly and loved," added Josiah.
Read Also: Tedd Josiah opens up on his last moments with late wife, Regina Katar
Singer Akothee – a mother of five, on the other hand, stated that despite being a "stubborn child" her mother Yunita Akinyi Ogendi stood by her and never disowned her despite 'all the drama'.
"Hon. Yunita Akinyi Ogendi, It's not easy being Akothee's mother, this is the mighty Woman who has been having sleepless nights since the conception of Akothee, from teenager to an old woman who would not; 1. Dress properly. 2. Always trending for all reasons and seasons. 3. Has many children with no stable relationships. 4. Is always up and about taking risks for reasons best known to her.
"I bet my mom wishes at times she dint give birth to me, or maybe I should have just been born in another family. My mom has never disowned me, not in public nor privately. She is; a hero, patient, enduring, intelligent, amazing, brave," shared Akothee.
Celebrating his wife as a gem, comedian Dr Ofweneke was also not left behind either as he showered his wife with praise in an emotional post assuring her of his unequivocal support and love.
"I always think God must have been from a nice holiday before creating you, the gem in my life, that woman who makes it at all magic behind the scenes, I can't believe this is your first-ever Mother's Day and to many more on the way. Four months into it, I watch you every day take care of E and I and I must say we are too lucky!! Happy Mother's Day boo. I love you and I will stay here longer than corona. Till infinity," he posted