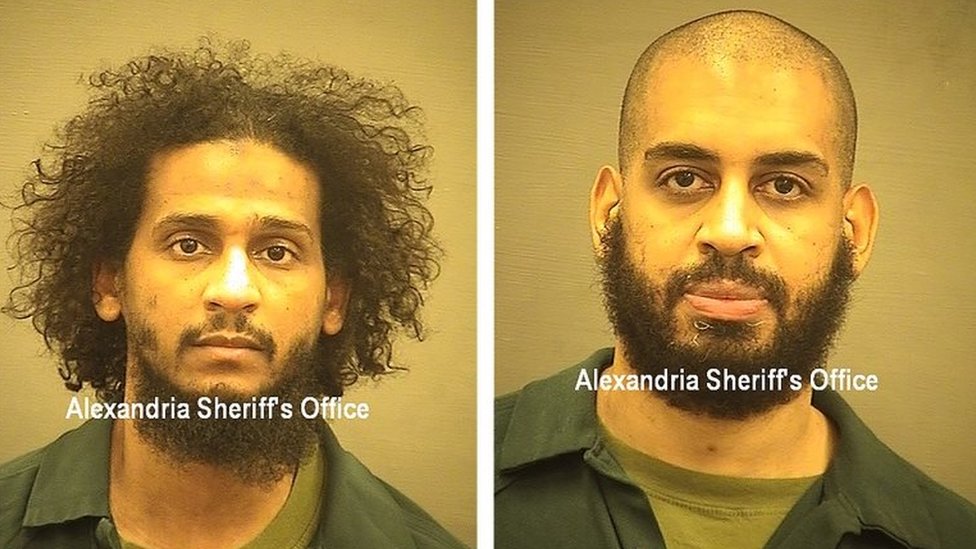 Two Islamic State (IS) suspects from the UK have pleaded not guilty in a US court to charges of conspiring to murder four American hostages.
El Shafee Elsheikh and Alexanda Kotey are accused of belonging to an IS cell dubbed "The Beatles" involved in kidnappings in Iraq and Syria.
Appearing by videolink, they both pleaded not guilty at a hearing in Alexandria, Virginia.
They had been flown from US custody in Iraq to face charges on Wednesday.
Elsheikh, 32, and Kotey, 36, are facing trial for involvement in the murders of US journalists James Foley and Steven Sotloff and relief workers Peter Kassig and Kayla Mueller.
Both of the accused waived their right to a fast trial.
Setting the date of the next hearing for 15 January, Judge TS Ellis described the case as "complex and unusual" and said it may involve classified information.
"Time is required in order to achieve the ends of justice in this case," the judge said.
Elsheikh and Kotey are suspected of involvement in the deaths of other hostages, including Alan Henning – a taxi driver from Salford, Greater Manchester, who was delivering aid – and Scottish aid worker David Haines, from Perth, as well as two Japanese nationals.
They are also face charges of supporting terrorism and conspiring to commit hostage taking.
Originally from west London, their alleged IS gang was given its 1960s pop group nickname by hostages due to their British accents. They were stripped of their UK nationality in 2018.