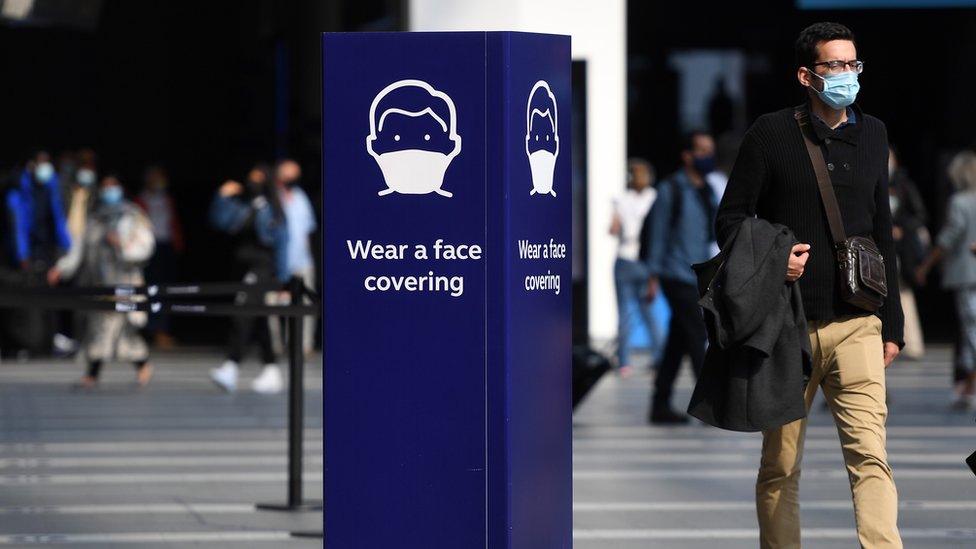 The prime minister is to make a statement to MPs on Monday giving details of new restrictions to slow the spread of coronavirus in England.
A letter from Boris Johnson's chief strategic adviser to MPs in the north-west of England seen by the BBC states "it is very likely that certain local areas will face further restrictions".
A three-tier system will see areas face differing rules based on case severity.
Under the new restrictions, pubs and restaurants could be closed in parts of northern England and the Midlands – where some of the highest number of cases are occurring – while a ban on overnight stays is also being considered.
It is understood that the most severe measures will be agreed with local leaders in advance before they are implemented.
The letter to the MPs from Downing Street adviser Sir Edward Lister says the government was hoping to "finalise these details as soon as possible" amid "rising incidence in parts of the country".
It also cites the "engagement that is taking place today and during the course of the weekend with local authority leaders in your region".
Sir Edward says the set of measures being discussed "present difficult choices. We must seek to strike the right balance between driving down transmission, and safeguarding our economy and society from the worst impact".


A number of areas in north west and north east England and the Midlands are already subject to stricter restrictions. A tiered system of measures is designed to replace the patchwork of existing rules across the country.
Housing and Communities Secretary Robert Jenrick told BBC Radio 4's Any Questions there needs to be "greater freedom for local areas to design measures for themselves".
He said there was "a merit to simplicity" on measures to bring down the spread of Covid-19 and there will be an approach that has "simple national rules" and added that in local areas "local leaders will know best".



In the face of pressure from MPs, elected mayors and council leaders, the prime minister has signalled he wants "much closer engagement" with local politicians.
As a senior government source said, they will bring "expertise on what will work in their regions".
The hope is for "top tier" restrictions in the new multi-level system to be agreed between the government and local leaders in advance.
There is an acknowledgement from inside government that this marks a change in approach. It is a shift away from what Labour described as a "Whitehall knows best" attitude.
It will allow local politicians, some of whom until now have complained at being frozen out, to have a greater input.
But it will also mean they are accountable, alongside government ministers, for the success or failure of the measures introduced.
They will have to share the responsibility, perhaps blame, if measures don't work or prove unpopular.
And amid calls for clarity, it seems the new tiered system could vary region by region, making clear national messaging more difficult.


A senior government source said the prime minister had told officials and ministers he wants much closer engagement with local leaders before decisions were made on further measures.
"Local people are going to have to endure these restrictions so it is only right their leaders have a say on what they are" the source said, adding "they will also bring expertise on what will work in their regions".
Under the new support announced by Rishi Sunak, employees who work for companies made to close by law because of coronavirus restrictions are to get two-thirds of their wages paid for by the government.
The chancellor said the latest measures would provide "reassurance and a safety net for people and businesses in advance of what may be a difficult winter".
According to the Public Health England data published on Thursday, Nottingham, Knowsley, Liverpool, Manchester and Newcastle upon Tyne have the highest infection rates in England.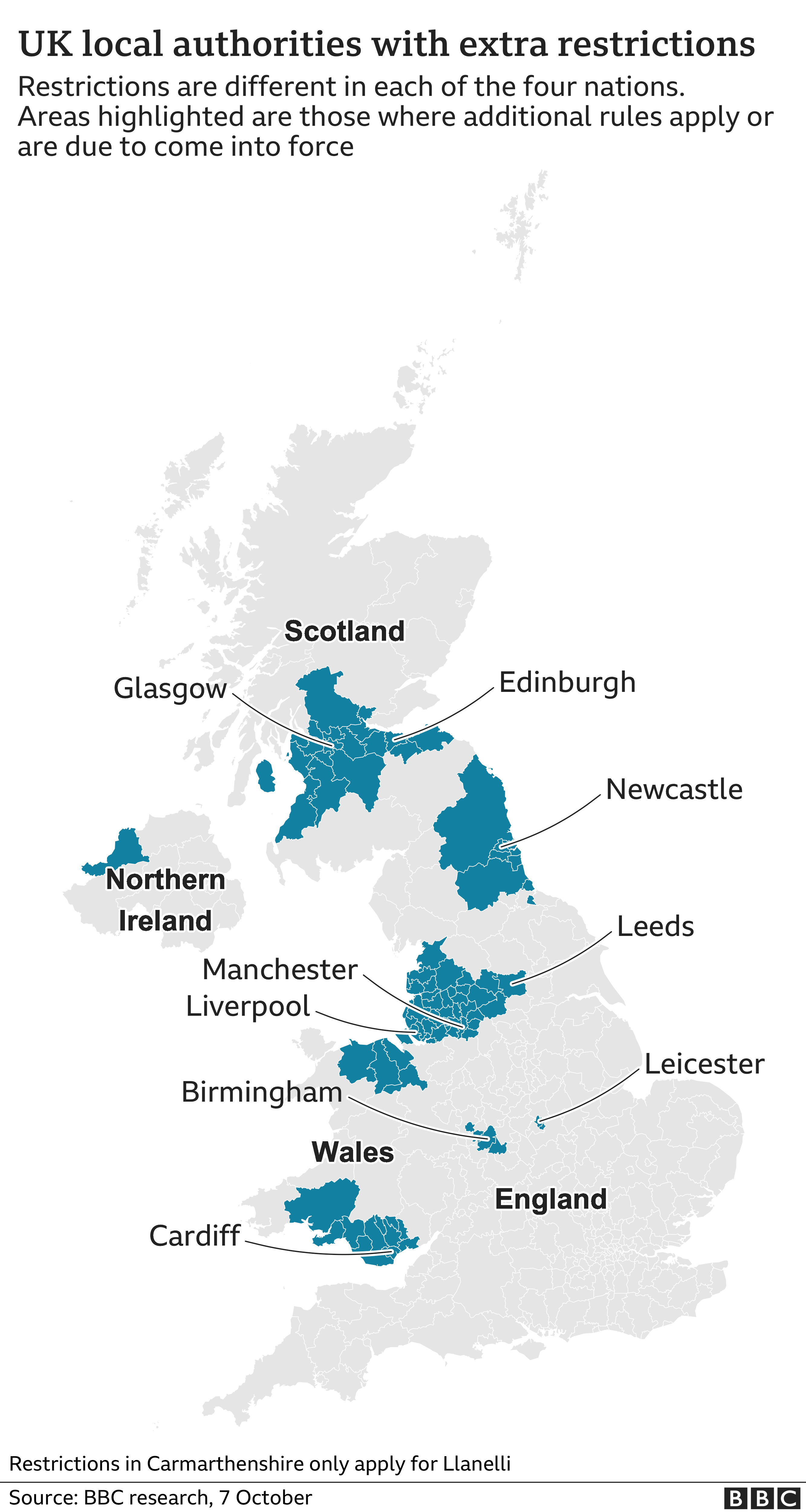 The number of people in the UK to have tested positive for coronavirus rose by 13,864 – a decrease of 3,676 on Thursday's figures – with a further 87 deaths reported on the government's dashboard.